January 2018: Culture meets Nature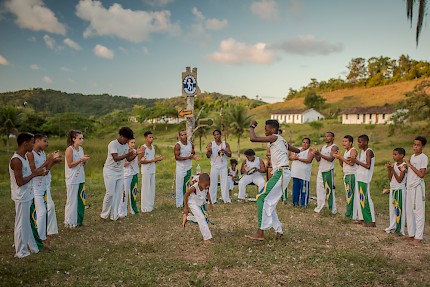 The capoeira group "Fenix ​​Negra" visited the Fazenda Almada. We were able to experience wonderful performances of this Brazilian martial arts dance. In return, we have enabled children and adolescents to experience the beauty of nature. From their home, the favelas of the city of Salvador, the rainforest is unfortunately very far away in their everyday lives. A meeting which visitors and visitors enjoyed very much.
June - August 2017: Tree planters are guests on Almada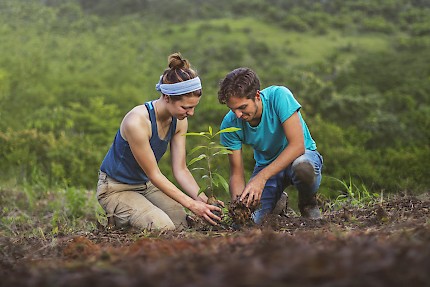 Three months long, people from various countries are busy recreating a species-rich forest on former cow pastures of the Fazenda Almada. This year the management has for the first time the newly established organization for rainforest protection: AMAP (Almada Mata Atlantica Project, www.amap-brazil.org). They will ensure that the reforested areas get the highest protection status wich is possible in Brazil. A gift to future generations for climate and species protection.
Foto: Lars Richter
June 2017: The renovation is finished, the guest house is opened!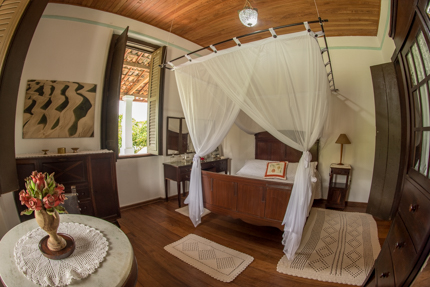 It took almost one year, and was hard work. We are proud that we can now open the doors of our completely renovated main house for guests. Everybody is very happy about the result. It has succeeded to carry the style of the past days to modernity, and at the same time creating a contemporary pousada for recreation-seeking and curious visitors. Welcome to yesterday, without leaving today.
March 2017: Almada cocoa goes organic
The Fazenda Almada has now been officially introduced to the community of organic farmers of the Cooperative "Cabruca". All those involved are certified by the IBD, which controls the cultivation according to the strict Brazilian, European and North American organic rules. From autumn onwards, we will grow organic cocoa, first on a small area, and deliver it to the cooperative. In the coming years, our plantation will be converted into the biodynamic cultivation method. Our goal is to produce the best possible and ecologically most valuable chocolate base on more than 100 hectares of land, which is possible.
January 2017: Our little church shines in new splendor!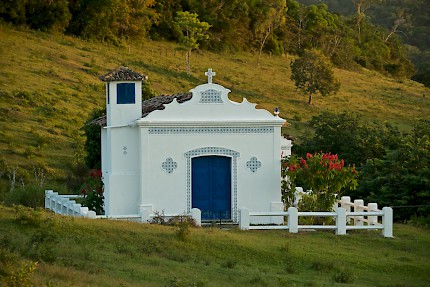 At the turn of the year our chapel got a new painting. It now shines in traditional white on the walls, and fresh blue on doors and windows. We are waiting for the first lovers, who dare to give themselves the "yes" word on our farm. We like to organize an unforgettable wedding for you. Just ask us!
November 2016: Safe tropical rainforest with AMAP!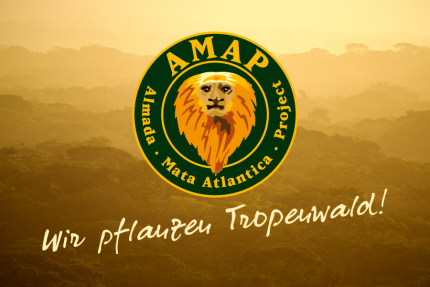 AMAP (Almada Mata Atlantica Project) is our non-profit nature conservation organization. We plant tropical rainforests in the area of the Fazenda Almada, and provide their permanent protection. Help us to help one of the most biodiverse, but also endangered ecosystems on earth. Engaged people from Brazil and Germany are working on this important task with a lot of passion under the banner of AMAP. You can find all information about volunteering for the planting of trees, as well as financial contributions, on our homepage:
August 2016: Renovation has begun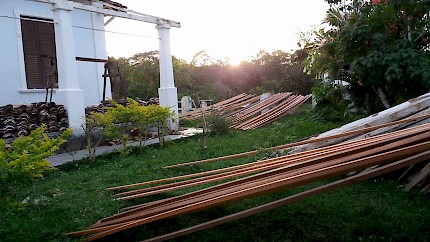 After a long time of planing, the renovation of the old main building has begun. We are happy, that we found ways to restore this jewel of colonial times, without losing the charme of the old days.
Treeplanters wanted!
In Juli 2016 we had a group of volunteers from Germany and Brasil on our farm, who planted 604 trees. Everybody who is fit and a naturelover, is invited to join us for the next step of reforestation, in June 2017. Just write us that you are interested, and we will come back to you as soon as the program is organised. info@almadatreeplanting.org You find more information here: www.amap-brazil.org
"Fazenda Almada" Teaser
This little teaser enables a first glipse on our little paradies at the edge of the cacao-forest.
June 2016: Our daughter comes home
We are very exited and happy, that our daughter Anabelle is arriving at the Fazenda Almada for the first time in her life. Six weeks after her birth in germany, she came with her mom to her new home. Everybody on the farm welcomed her with a lot of love and joy.